Event updates, cancellations and postponements due to coronavirus »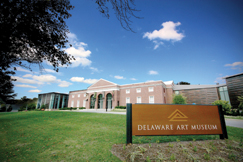 Delaware Art Museum - Digital Collection
Through Thursday, December 31
Delaware Art Museum, Wilmington
schedule & tickets   venue   official site  
Founded in 1912, the Delaware Art Museum was established "to promote the knowledge and enjoyment of and cultivation in the fine arts in the State of Delaware." To further uphold this vision, we are placing our unique collection online. Either by browsing existing collections or using the keyword search, this site allows visitors to explore our excellent holdings in Pre-Raphaelite Art, American Art, Illustration, and much more!
The Museum's Collection Search was made possible by the generous support of the Welfare Foundation and a grant from the Institute of Museum and Library Services Museums for America program.
Kids & Family Friendly Free Visual Arts: Museums Visual Arts Northern Delaware
Schedule & Tickets
Through Thursday, December 31 · add to calendar today 2020-03-20 09:00:00 2020-12-31 17:00:00 America/New_York Delaware Art Museum - Digital Collection https://www.delawarescene.com/event/27198/delaware-art-museum-digital-collection Delaware Art Museum, 2301 Kentmere Parkway, Wilmington, DE, 19806

Update this event
If you have an organization profile, please log in for quicker processing.