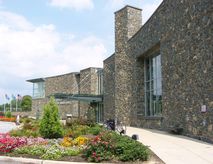 Bad Art Night for TEENS
schedule & tickets   venue   official site  
You may be bad at art, but can you create the WORST ART of the day? Your challenge is to produce a work of art based on a theme, using only materials provided, before time runs out. Your work may be displayed if you like, or take it home to keep. The winner of the worst art wins a trophy! Ages 12-16. Registration encouraged.
Libraries Visual Arts Free Northern Delaware
Schedule & Tickets
Through Wednesday, December 27 · add to calendar today 2023-02-22 09:00:00 2023-12-27 17:00:00 America/New_York Bad Art Night for TEENS https://delawarescene.com/event/33387/bad-art-night-for-teens Brandywine Hundred Library, 1300 Foulk Road, Wilmington, DE, 19803

Update this event
If you have an organization profile, please log in for quicker processing.