Attraction
Delaware Art Museum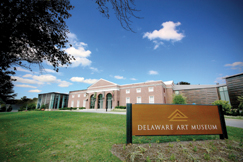 The Delaware Art Museum was founded in 1912 for the purpose of preserving and exhibiting the art of Wilmington-native Howard Pyle, who filled his riveting illustrations with drama and emotion. The Museum's collection later grew to include works by Pyle's students, including N.C. Wyeth and Maxfield Parrish; Ashcan School artist John Sloan and his circle; and additional highlights of American art from the 19th century to present, including masterpieces by Raphaelle Peale, Edward Hopper, and Dale Chihuly. The Delaware Art Museum also holds the largest collection of British Pre-Raphaelite art outside the United Kingdom. The Pre-Raphaelites rejected the conventions of their time and turned for inspiration to the art of the Middle Ages--the time "before Raphael"--and their subjects were drawn primarily from literature. Outside, the Museum offers Delaware's only Sculpture Garden, filled with works by important contemporary sculptors, and a labyrinth.
Calendar of Events
Hours
Effective January 1, 2009:
Wednesday – Saturday: 10:00 a.m. – 4:00 p.m.
Sunday: Noon – 4:00 p.m.
Monday – Tuesday: Closed
Admission
Admission (effective January 1, 2009)
Museum admission includes entry into all galleries, including the permanent collection and temporary exhibitions. There is NO additional fee for any exhibitions.
Free Admission
Museum Members: Free admission every day
Sundays: Free* admission all day
*Museum admission is waived every Sunday thanks to major corporate sponsorship from AstraZeneca.
Paid Admission (Wednesday – Saturday for Non-Members)
Adults: $12.00
Seniors (60+): $10.00
Students (w/valid ID): $6.00
Youth (ages 7-18): $6.00
Children (6 and under): Free
Families (up to 2 adults and 4 youth): $25