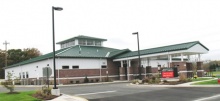 Stevens Puppets: The Wizard of Oz
schedule & tickets   venue   official site  
Lions and tigers and puppets, oh my! In this marionette puppet production of the classic, heart-warming tale of "The Wizard of Oz," adapted by Stevens Puppets. These beautifully hand-carved marionette puppets set against colorfully, hand-painted scenery, bring this tale to life on a magnificently fanciful stage. The musical score that accompanies this theatrical production will have audiences humming all the way home.

Children and adults of all ages will watch as a Kansas cyclone whisks Dorothy off to Oz where she befriends the Scarecrow, the Tin Woodman, and the Cowardly Lion.

Show is approximately 45 minutes and includes a 5 minute marionette demonstration after the show.

Stevens Puppets is celebrating over 80 years of producing unforgettable and one-of-a-kind marionette productions for audiences of all ages.
Free Kids & Family Friendly Theater & Performance Libraries Southern Delaware
Schedule & Tickets
Thursday, July 18, 2019 @ 11:00am · add to calendar 2019-07-18 11:00:00 2019-07-18 14:00:00 America/New_York Stevens Puppets: The Wizard of Oz https://www.delawarescene.com/event/24929/ Bridgeville Public Library, 600 South Cannon Street, Bridgeville, DE, 19933
$FREE
Update this event
If you have an organization profile, please log in for quicker processing.