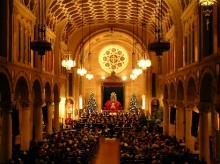 Cabaret!
schedule & tickets   venue   official site  
Our annual fundraising event. A night of delicious food and glorious music. This year we will feature songs from beloved Broadway shows - and with some audience participation! 
Music Theater & Performance: Musical Northern Delaware
Schedule & Tickets
Saturday, February 15, 2020 @ 6:00pm · tickets · add to calendar 2020-02-15 18:00:00 2020-02-15 21:00:00 America/New_York Cabaret! https://www.delawarescene.com/event/26122/cabaret Episcopal Church of Sts. Andrew and Matthew, 8th and Shipley Streets, Wilmington, DE, 19801
$50 · Call 302-740-2410 to order.
Update this event
If you have an organization profile, please log in for quicker processing.