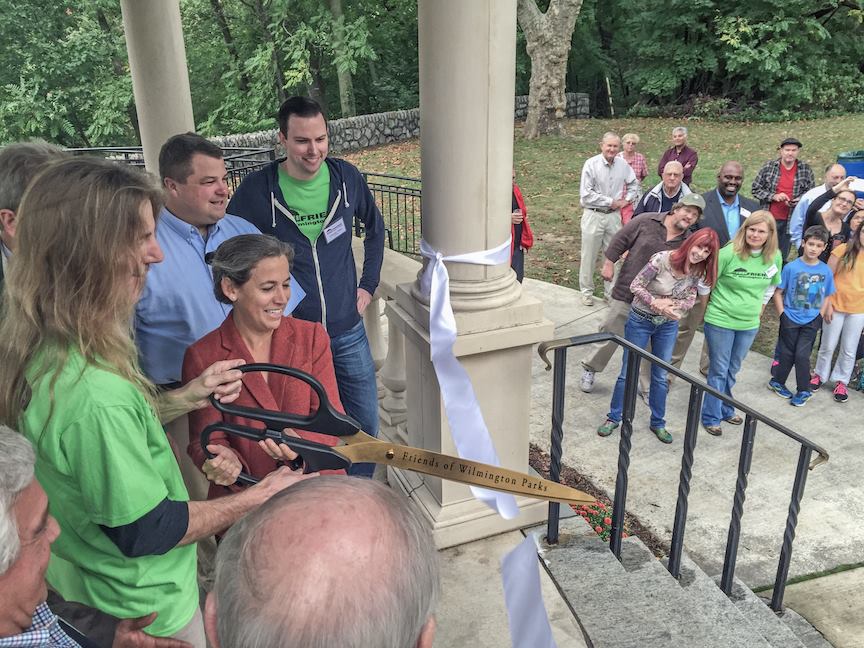 Friends of Wilmington Parks
Wilmington, DE
"For twenty-five years, Friends of Wilmington Parks, a 501(c)(3) organization, has worked closely with the Delaware Division of Parks and Recreation and the City of Wilmington to assist in the preservation, maintenance and programming of the Wilmington State Parks. Friends of Wilmington Parks has over 500 members, 1,375+ Followers on Facebook, and a dedicated Board of Stewards and staff.
The Wilmington State Parks are five parks along the Brandywine River. Alapocas Run State Park's 145 woodland acres are popular with cyclists, hikers, joggers and rock- climbers. Brandywine Park's 175 acres has hiking and biking trails, as well as the Sugar Bowl Pavilion, Josephine Gardens and the Jasper Crane Rose Garden. Rockford Park's 104 acres include a popular dog park, tennis courts, playing fields, hiking trails, and one of the most iconic landmarks in the city, Rockford Tower. Kentmere Parkway, advocated by famed landscape architect Frederick Law Olmsted, is one of America's earliest "greenways," connecting Brandywine and Rockford Parks. H. Fletcher Brown Park overlooks the Brandywine River and its historic millrace and also includes a Charles Parks statue of H. Fletcher Brown. The park provides a small oasis in the Wilmington business district. 
Our Board of Directors are referred to as Stewards, a more fitting title for our mission. Brandywine Park, Kentmere Parkway and Rockford Park trace their existence to William Poole Bancroft.
After the end of the Civil War through the late 1800s, the Brandywine River valley might have been overrun with industrialization and development, just as was occurring in other American cities and towns with rivers running through them. The initial effort to establish a park system failed in the state legislature in the late 1860s. Mr. Bancroft acquired land along the Brandywine and offered an 80-acre tract of land along the Brandywine River, with the requirement for Wilmington to add contiguous land and establish a non-partisan Park Commission. The state and city agreed, and America's leading landscape architect, Frederick Law Olmsted, enthusiastically endorsed the plan. At the time, most of what is now Rockford Park was a Bancroft farm.
In 1889, Bancroft donated the initial 59 acres to Wilmington for Rockford Park, with the duPont family donating land along the Brandywine River with the requirement that no public buildings would be built on it. In total, William Poole Bancroft personally donated 200 acres to the Wilmington Park system.
Friends of Wilmington Parks embraces this sense of stewardship and preservation of open space and parkland set forth by our city's earliest advocates for our public parks and carried on by generations of involved citizens."
Festivals & Special Events Kids & Family Friendly Music Northern Delaware
Hours
Office hours are Monday-Friday from 9:00 a.m. - 12:00 p.m. We operate with part-time staffing hours.

Concerts in the parks begin at 6:30 p.m. and end at 9 p.m.
Driving Directions & Parking
Free parking lot outside our offices.

Note: only organizational meetings and day-to-day work is done in our offices. All of our events are held within the Wilmington State Parks.
Update this organization
If you have an organization profile, please log in for quicker processing.