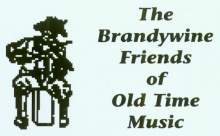 Brandywine Friends of Old Time Music
Greenville, DE
The Brandywine Friends of Old Time Music was founded in 1972 with the goal of helping to preserve traditional American music by presenting live performances of Bluegrass and old time music in Northern Delaware and the surrounding areas of Maryland, Pennsylvania and New Jersey, and encouraging local traditional musicians. From the outset, it has been an all volunteer, nonprofit organization.
Music Festivals & Special Events Northern Delaware
Update this organization
If you have an organization profile, please log in for quicker processing.