Cab Calloway School of the Arts
Wilmington, DE
Cab Calloway School of the Arts is the premier arts school in Delaware. The school has become well-known throughout the community for it theatre productions, musical concerts, and visual arts shows.
It's 1000 seat theatre and art gallery present school sponsored programmming that is open to the Wilmington Community. In addition, the theatre is also a venue that can be rented.
Visual Arts Music Theater & Performance Northern Delaware
events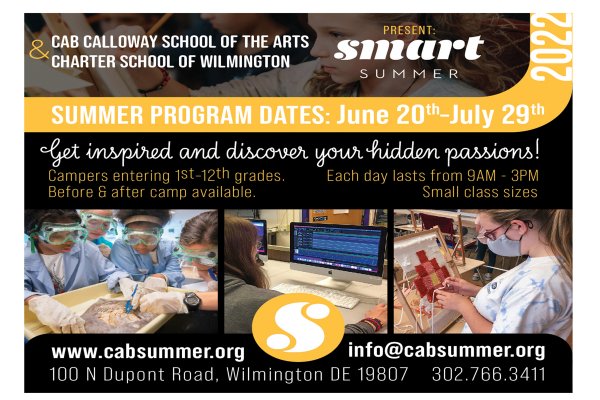 SMArtSummer
June 20 - July 29
Hours
Education hours are 7:30 a.m. until 3:30 weekdays with evening and weekend performances and arts events/exhibits scheduled throughout the year
Driving Directions & Parking
Free onsite parking is available next to the school on Dupont Road. From the City of Wilmington:
North on Rt. 52 (PA Avenue) to left onto DuPont Road. Cab Calloway School of the Arts is on the left corner of DuPont Road and Lancaster Avenue.
Other Visitor Information
CCSA Productions includes a season line-up of theatrical plays and musicals. A participant in the Wilmington Art Loop, it also produces several fine arts exhibits and musical concerts throughout the year.
Update this organization
If you have an organization profile, please log in for quicker processing.