Event updates, cancellations and postponements due to coronavirus »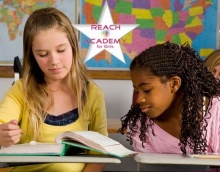 Reach Academy for Girls
Claymont, DE
Reach Academy for Girls will provide a rigorous core curriculum based on
scientifically based research strategies and globally recognized best practices. Our goal is to help all students in collaboration with the family and community to reach their highest potential and become leaders in the school, family and community. Reach Academy for Girls serves a diverse group of girls.
Kids & Family Friendly Northern Delaware
Driving Directions & Parking
Located on Philadelphia Pike and easily accessible from I-95 and I-495. It is conveniently located minutes from Wilmington and only 30 minutes from Newark and Philadelphia. Plenty of free parking.
Update this organization
If you have an organization profile, please log in for quicker processing.