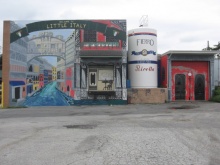 Little Italy Neighborhood Association
Wilmington, DE
Visit our new mural at Fierro Cheese located at 1025 N. Union St
Wilmington, Delaware. It's the first building on your right hand side on Union Street right off of Pennsylvania Ave.
The Little Italy Neighborhood Association (LINA) is a volunteer, grass
roots, nonprofit organization whose purpose is to develop and maintain a healthy and vibrant community in the West Side of Wilmington. As residents and business people, we believe that the strength of our diversity in people, cultures, and businesses sets us apart from other communities in Wilmington. We are committed to making Little Italy a destination point to which people are enticed to live, work, and visit.

Visual Arts Free Festivals & Special Events Northern Delaware
Driving Directions & Parking
Street parking and parking at Fierro Cheese at 1025 N. Union St.
Update this organization
If you have an organization profile, please log in for quicker processing.