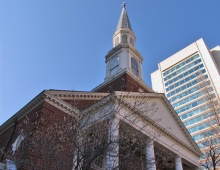 First & Central Presbyterian Church of Wilmington
Wilmington, DE
First & Central Presbyterian Church is a diverse, accepting, and open-minded Christian community making a difference in the city. We are Presbyterian, but ecumenical, taking people as they are, celebrating the leadership of all, embracing people of all lifestyles, and growing to meet the challenges of our urban community. First & Central hosts a number of concert and educational events throughout the year, including those sponsored by Market Street Music. Due to its favorable acoustical properties, the church is frequently called upon to serve as a concert venue for a variety of organizations and individuals in the Wilmington community.
Festivals & Special Events Music Northern Delaware
Hours
Monday-Friday 8:30 a.m. - 4:30 p.m.; open other hours as scheduled for events.
Admission
Varies
Driving Directions & Parking
On street.
Update this organization
If you have an organization profile, please log in for quicker processing.