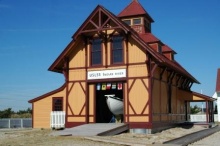 Indian River Life-Saving Station Museum and Gift Shop
Rehoboth Beach, DE
The Life-Saving Station has been meticulously restored to its 1905 appearance, complete with diamond-shaped trim. The station was built in 1876 for use by the United States Lifesaving Service, a government organization created to respond to the alarming number of shipwrecks along the coastlines of the United States. This building was originally located 400 feet closer to the shore, but a sand dune began to form around it almost as soon as it was finished. It was moved to its present location in 1877. It is listed in the National Register of Historic Places.
In addition to the public program hours, private tours and other programs
for schools or other organized groups can be scheduled on weekdays or weekends by appointment. Please call (302) 227-6991 for scheduling and availability
Attractions Kids & Family Friendly Lectures & Workshops Southern Delaware
Hours
The Indian River Life-Saving Station Museum and Gift Shop will be open from 8 a.m.
until 4:30 p.m. daily, April 1 through October 31. From November 1 though March 31, the
Indian River Life-Saving Station Museum and Gift Shop will be open from 8 a.m. to 4 p.m.
on selected days only. November 15, December 7, December 20 - 22, December 29 - 30, January 3, February 8 and 14 and March 21
Admission
Tours of the station are $3 for senior citizens (aged 62 or older), $4 for
adults and $2 for children six to 12 years old. Children five and under are admitted
free of charge.
Driving Directions & Parking
The Indian River Life-Saving Station is located on Route 1 in Delaware Seashore
State Park, 3 miles south of Dewey Beach or 1 mile north of the Indian River Inlet
bridge.
Update this organization
If you have an organization profile, please log in for quicker processing.