Event updates, cancellations and postponements due to coronavirus »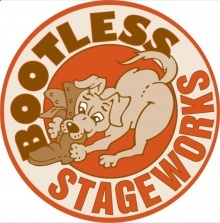 Bootless Stageworks
Wilmington, DE
Bootless Stageworks is an ensemble company of skilled Emerging Artists committed to producing contemporary theater experiences that are stimulating, adventurous, challenging, immediate and present, in an environment of trust and collaboration, for enjoyment by all. Bootless is known for exceptional and challenging productions as well as unique opportunities for Theater Artists. A safe space that nurtures creativity, respects diversity of people, beliefs and viewpoints, and engages in honest communication, Bootless Stageworks amplifies the impact theater has on its audience members and surrounding community.
Theater & Performance Festivals & Special Events Attractions Northern Delaware
Hours
Varies with production. Check our website for performance dates, times and venues.
Admission
Varies with each production. Please check our web site for ticket prices.
Driving Directions & Parking
Free on-street parking and free limited lot parking. Visit our website for details.
Public Transportation
Easy access from I-95. Also accessible by DART and SEPTA via Wilmington Train Station. See our website for details.
Update this organization
If you have an organization profile, please log in for quicker processing.