Event updates, cancellations and postponements due to coronavirus »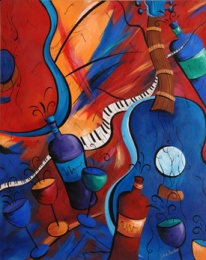 Juleez
Rehoboth Beach, DE
Blending colors and themes has brought Julie international recognition as an award-winning artist. Julie has shown at the Oscar and exhibited with iconic artists Andy Warhol and Peter Max. Julie has now brought her bright and vibrant colors to Baltimore Avenue in Rehoboth Beach.

From unique hand painted violins and cellos to home items, Juleez reflects the creativity of Julie Borden. Juleez handbag line is based on the original works of Julie Borden and can be customized. Julie Borden also has the artistry to portray lives in art and they are as unique as the clients that commission them.

Please come and visit us. We always have new ideas, like chocolate edible paintings. We are located on the ocean block of Baltimore Avenue along side of the Rehoboth Beach Theatre of the Arts.

Visual Arts: Galleries Attractions Visual Arts Southern Delaware
Hours
Closed Monday and Tuesday.
Wednesday: 11am to 5pm
Thursday: 11am to 7pm
Friday and Saturday: 11am to 9pm
Sunday: 11am to 6pm.
Update this organization
If you have an organization profile, please log in for quicker processing.