Event updates, cancellations and postponements due to coronavirus »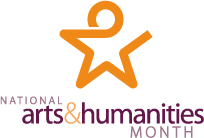 Delaware Arts & Humanities Month in October!
In honor of National Arts & Humanities Month, we invite you to experience the cultural gems in the First State. The events below are selections from more than 500 events listed in DelawareScene.com for the month. Whether your passion is literature, film, dance, music, performance or visual arts, there is something for you!
Browse all... Festivals & Special Events Free Libraries Music Music: Bands Music: Choral Music: Classical / Opera Music: Country / Folk / Bluegrass Music: Hip-Hop / R&B Music: Jazz / Blues Music: Rock / Pop Music: World Theater & Performance Theater & Performance: Children's Theater Theater & Performance: Comedy / Drama Theater & Performance: Musical Theater & Performance: Stand-Up / Improv Theater & Performance: Variety Visual Arts Visual Arts: Art Centers Visual Arts: Art Tours Visual Arts: Art, Antiques and Craft Shows Visual Arts: Exhibitions Visual Arts: Galleries Visual Arts: Museums Visual Arts: Public Art
highlights