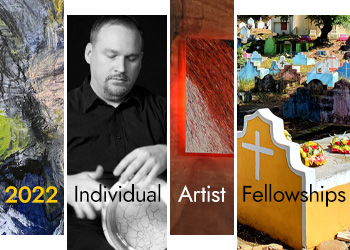 Individual Artist Fellow Events
Delaware's Individual Artist Fellowships recognize artists for their outstanding quality of work and provide monetary awards. Individual Artist Fellows are publicly acknowledged and benefit from the additional exposure to their work.



The Division offers fellowships in the artistic disciplines of choreography, folk art, jazz, literature, media arts, music, and visual arts. Artists' work samples are reviewed by nationally recognized out-of-state arts professionals, considering both demonstrated creativity and skill in the art form.

The awards--$3,000 for Emerging Artists, $6,000 for Established Professionals, and $10,000 for Masters--allow artists to pursue advanced training, purchase equipment and materials, or fulfill other needs that will help advance their careers.

The highest honor--"the Masters Fellow"--is reserved for those who meet rigorous criteria. Only one Masters Fellow can be awarded each year, and the disciplines rotate every three years.
Stay Connected