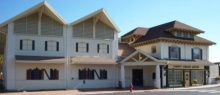 Milton Public Library
Milton, DE
The Milton Public Library, an integral part of its community, provides free
access to materials, programs, and services in a friendly, helpful, and family oriented environment. Special emphasis is placed on maintaining a collection of current, high-demand, high-interest materials in a variety of formats. The library encourages lifelong learning and a love of reading through its collections and programs. In carrying out its mission, the library will seek to enhance the quality of life in our community.
Literature & Poetry Lectures & Workshops Kids & Family Friendly Southern Delaware
Hours
Monday - Friday: 10 AM - 8 PM
Saturday: 10 AM - 4 PM
Sunday: CLOSED
Update this organization
If you have an organization profile, please log in for quicker processing.