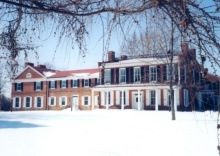 Buena Vista
New Castle, DE
The main section of Buena Vista was built between 1845 and 1847 by John M. Clayton, United States Secretary of State from 1849–1850 under presidents Taylor and Fillmore, and United States Senator from 1829–1836, 1845–1849, and 1853 until his death in 1856. The home later became the residence of C. Douglass Buck, Governor of Delaware from 1929–1937 and United States Senator from 1942–1948. Administered by the Delaware Division of Historical and Cultural Affairs, Buena Vista and its grounds now serve as a state conference center offering a variety of meeting rooms, modern communication capabilities, quality food services, and a host of guest amenities.
Lectures & Workshops Festivals & Special Events Attractions Northern Delaware
Hours
Buena Vista is open to the public several times per year for special events.
Driving Directions & Parking
Located on the southbound side of U.S. Route 13 southwest of New Castle, Delaware, Buena Vista is approximately 1.5 miles south of the interchange of Routes 13 and 40, and approximately 1.5 miles north of the interchange of Routes 1 and 13. Ample, free parking is available.
Update this organization
If you have an organization profile, please log in for quicker processing.