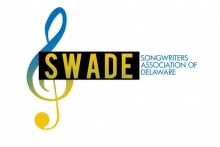 Songwriters Association of Delaware (SWADE)
Wilmington, DE
The Songwriters Association of Delaware (SWADE) is an organization designed to serve as a vehicle of exchange, support, and education for songwriters of Delaware and the surrounding areas.

SWADE is geared towards new and seasoned songwriters of all ages, creeds, and backgrounds.
Music Lectures & Workshops Festivals & Special Events Northern Delaware
Other Visitor Information
Introduction to the community event Saturday, October 11, 2014.
Organization scheduled to launch January 2015. We will be meeting a various locations in Delaware.
Update this organization
If you have an organization profile, please log in for quicker processing.