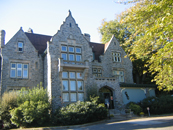 Mad Poets Society
Wallingford, PA
The Mad Poets Society (MPS) holds monthly poetry readings at a variety of venues in the greater Philadelphia area, including a series each second Wednesday of the month at the Community Arts Center of Wallingford. The MPS has not had its own physical location since I joined more than 20 years ago. Over the years, the organization has held thousands of poetry readings, sponsored poetry writing contests for youth, held galas and fund-raisers, offered a monthly critique circle, and published the Mad Poets Review. The venues where I have read my work for MPS include The Tyme Gallery in Havertown, George's 5th St. Cafe, The Roxborough Development Corporation, and The Big Blue Marble Bookstore in Philadelphia, Borders Books in Springfield, Delaware County Institute of Science in Media, Tavern At Burk's Bend in Ridley, The Community Arts Center in Wallingford and Main Point Books in Wayne - all of these in Pennsylvania. The organization offers opportunities for poets of all ages and degrees of experience to read their work aloud in public settings.
events
Hours
Most readings begin at 7 p.m.
Update this organization
If you have an organization profile, please log in for quicker processing.