Event updates, cancellations and postponements due to coronavirus »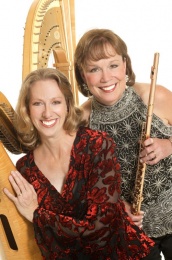 SPARX
Wilmington, DE
Energy. Virtuosity. Commitment…these are the trademark qualities that have distinguished the SPARX flute and harp duo---Joan Sparks, flute & Anne Sullivan, harp---for nineteen years. Their versatile playing has celebrated the elegance and depth of the flute and harp format and at the same time transcended its boundaries. They bring a refreshing vitality to their performances and effortlessly establish a joyful connection with their audiences. SPARX has garnered prestigious national awards from Chamber Music America, the American Composers Forum, and the National Flute Association. They have appeared in concert and on radio programs across the country to such reviews as "…a fine combination of outstanding tone quality, great technique and mountaintop artistry…" (Richard Snyder, The Times Herald) and "…truly virtuosic dialogue…" (Willa Conrad, the Toledo Blade). They have recorded three CDs: Reflections (1997), The Power of Two (2001), and Christmas Echoes (2002). In 2001, SPARX represented the State of Delaware at the Kennedy Center in Washington, DC, performing a concert of American music to salute the new millennium. In 2005, SPARX celebrated 10 years as ensemble in residence at the Tatnall School, in Wilmington, Delaware, a position that allows them to achieve cherished goal of creating "lifelong listeners", and to share their love of music and performing. For six years, SPARX has presented a three-concert series; for 12 years, they have self-produced an annual Chamber Music Festival, both in Wilmington, Delaware.
Hours
Hours vary with programs. Please call 302.652.4337 for full program details.
Admission
Admission prices vary with programs. Please call 302.652.4337 for full program details.
Update this organization
If you have an organization profile, please log in for quicker processing.