Event updates, cancellations and postponements due to coronavirus »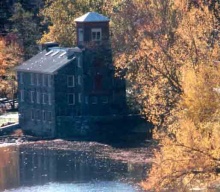 Somerville Manning Gallery
Greenville, DE
Located in historic Breck's Mill adjacent to the Hagley Museum, Somerville Manning is unique among small city galleries. Since 1981 the Somerville Manning Gallery has been committed to exhibiting art from the historic tradition of the Brandywine Valley, to presenting the best of regional artists, and to bringing to Wilmington artists of national and international stature.
Visual Arts Visual Arts: Galleries Northern Delaware
Hours
Tuesday - Saturday 10am - 5pm
Admission
No admission.
Driving Directions & Parking
Somerville Manning Gallery is located just 30 minutes south of Philadelphia, 90 minutes north of Washington, DC in Wilmington, Delaware.
Driving Directions:
From I-95: Take I-95 to Delaware Exit 7, Pennsylvania Avenue [Route 52].
Take Route 52 North 1.7 miles to Breck's Lane on Right [just past AI duPont Middle School].
From Pennsylvania/Route 1:Route 1 to Route 52 South. Follow Route 52 for several miles, through Centreville and into Greenville, DE. After crossing over Route 141, make a Left at the second traffic light, onto Breck's Lane.

Somerville Manning Gallery is located in Breck's Mill, at the foot of Breck's Lane on the Brandywine River.
Update this organization
If you have an organization profile, please log in for quicker processing.