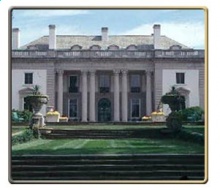 Nemours Mansion and Garden
Nemours is the 300-acre country estate of the late industrialist and philanthropist Alfred I. duPont. Located on the grounds of the renowned Alfred I. duPont Hospital for Children in Wilmington, Delaware, it derives its name from the town in France represented by Mr. duPont's great-great-grandfather, Pierre Samuel duPont de Nemours, as a member of the French Estates General in 1789. The mansion was built from 1909 to 1910 and is a fine example of a French chateau in the style of Louis XVIth. The 47,000 sq. ft. mansion looms over the surrounding formal gardens and is furnished with fine antiques, famous works of art, beautiful tapestries, and other treasures. The grounds surrounding the mansion extend for one third of a mile along the main vista from the house, and are among the finest examples of French-style gardens in the United States.
The mansion and gardens are open for tours between May and December. Tour groups are kept small and include expert commentary by guides familiar with the duPont family history. Their knowledge of the time period in which the estate was built allows the visitor to experience the ambience of the house. Tours take a minimum of two hours and include a guided tour through a series of rooms on three floors, followed by a bus tour through the gardens and surrounding grounds. Tours conclude with a visit to the chauffeurs garage where the familys antique cars are on display.
Plan Your Visit
Address
Nemours Mansion and Garden
1600 Rockland Road
Wilmington, DE 19803
Admission
Admission: $15.00
Contact
Stay Connected