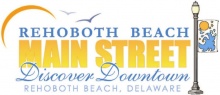 Rehoboth Beach Main Street
Rehoboth Beach, DE
Rehoboth Beach Main Street, Inc. is a non-profit organization committed to
preserving our unique seaside community while creating a vital, successful downtown Rehoboth Beach for residents, merchants and visitors.

Festivals & Special Events Southern Delaware
Hours
Office Hours 9-4 Monday-Friday. Closed weekends and holidays. Event times vary.
Driving Directions & Parking
Downtown Rehoboth Beach: http://www.downtownrehoboth.com/Driving_Directions.htm
Other Visitor Information
Combining historic charm, contemporary excitement, downtown Rehoboth Beach has over 200 boutique shops, galleries, spas, 40 hotel and B&B's, over 100 gourmet restaurants, casual eateries and spots for sweets and treats!

Come for the Boardwalk, mini-golf, arcades, kites, cabaret, wildlife, cozy fireplaces, jazz and more!

From sophisticated dining and upscale shopping to beach fries and boogey boards, downtown
Rehoboth Beach is a four-season gem!
Update this organization
If you have an organization profile, please log in for quicker processing.