Event updates, cancellations and postponements due to coronavirus »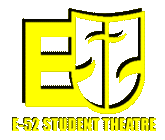 E-52 Student Theatre
Newark, DE
UD's oldest and finest undergraduate theatre company. Offer a variety of shows each semester. All tickets are purchased at the door. Show dates and other information is posted on the website.

Theater & Performance Northern Delaware
Admission
Shows in Bacchus Theatre: $3 students/$5 general
Shows in Pearson Auditorium: $5 students/ $7 general
Update this organization
If you have an organization profile, please log in for quicker processing.