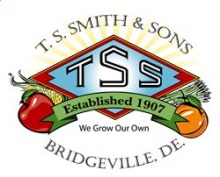 TS Smith & Sons
Bridgeville, DE
As Delaware's oldest commercial fruit grower, we share our farm though on farm offerings, special events that celebrate each season, and private events at our pavilion. We always have live music, demonstrations, tours, and more. Each event hosts a variety of nonprofit partners.
Kids & Family Friendly Music Festivals & Special Events Southern Delaware
Hours
Our farm market is open Mid-April through Dec 24 each year. Our office is open year round, M-F 8-5. Hours for our special events depend on the season.
Other Visitor Information
We are the "apple" in Apple Scrapple. For the day of the event, we offer a wide variety of entertainment and education options that focus on Delaware Agriculture and Local History.
Update this organization
If you have an organization profile, please log in for quicker processing.