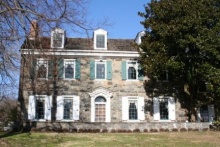 Judge Morris Estate
Newark, DE
This 2-½ story gray fieldstone house, circa 1790, is the former home of Judge Hugh M. Morris, a Delaware native, respected attorney and distinguished federal judge. Delaware's Division of Parks and Recreation acquired the property in 1998 and made it a part of White Clay Creek State Park. Today, the estate is available to accommodate special events and gatherings, along with activities and programs. Guests will enjoy the charm of this historic home and the serenity of the grounds and nearby pond.
Festivals & Special Events Kids & Family Friendly Theater & Performance Attractions Northern Delaware
Hours
During events and by appointment
Admission
Park entrance fees are in effect from March 1 through November 30. Daily fees are $3 for Delaware residents and $6 for non-residents. Annual passes may be purchased for $27 (residents) or $54 (non-residents).
Driving Directions & Parking
The entrance to Judge Morris Estate is on the east side of Polly Drummond Hill Road, just north of the Kirkwood Highway (third right). Note that the road is called Red Mill Rd. on the south side of the Kirkwood Highway if you are coming from points south.
Other Visitor Information
Guided tours may be scheduled by calling the Chambers House Nature Center 302-368-6560
Update this organization
If you have an organization profile, please log in for quicker processing.